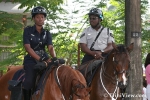 In light of the escalating crime rate in Trinidad and Tobago, and the perceived impotence of the Police Service to arrest the situation, I want to once again bring up the idea of decentralization of the major law-enforcement bodies.
In order to have a potent crime fighting and crime preventing organization, that organization must have:
(1) the tools to fight and prevent crime,
(2) the infrastructure to house and operate from,
(3) the support of the justice system,
and more importantly the confidence and faith of the people they are employed to serve and protect.

There is clear evidence that with the rapid and continuous growth and development of many sectors of the T&T community, having a Police Service that is administered and controlled from one un-strategic location in the capital city, cannot and will not work effectively.
What I am suggesting here is the need for separate and independent Police Services, either by counties divisions or cities, and accountable to the elected representative of the people in that location. In other words you will have for example: an Arima Police Service or a St Andrew/St David Service Police etc. These Law enforcement agencies will be budgeted for, recruited, trained, managed and controlled by the county, city or jurisdiction where they are headquartered. With such a system in place, it will be more easy and feasible for a well equipped, well trained and well supported Police to understand and satisfy the protective needs of the community.
We have the wealth, we have the technology and we have mature, knowledgeable competent individuals and organizations to make this happen. The only possible impedance may be selfishness, lack of foresight and open-mindedness to produce and accept change by some of the people in the position to do so.
John Crick
T&T Citizen