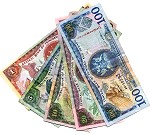 THE EDITOR: IMF representatives at the Central Bank in Port-of-Spain recently advised that the reintroduction of price controls in Trinidad and Tobago to stem inflation and high food prices would be a backward step. It is unfortunate that some people accept the advice of the IMF without questioning the validity of their statements.

Recently the IMF released their annual report entitled, "World Economic Outlook." The report forecasts that the world economy will grow but Latin America's growth will slow down. Over the last few years many Latin American countries have moved to the left and have repudiated the IMF's neo liberal policies that almost destroyed the region.
President Kirchener of Argentina rejected the report saying that the IMF has been wrong in the past.
During 1998 to 2002 when the IMF was lending billions to their economy they overestimated their growth and the economy collapsed. During 2003 to 2006 when Argentina rolled back neo liberal policies the IMF underestimated Argentina's growth. Yet the economy grew phenomenally.
Ecuador's socialist President, Rafael Correa, an economist trained in the United States also rejected the report. Venezuela's Finance Minister Cabezas asked if the report is technical or political. In 2005 the IMF projected Venezuela's growth to be 1.1 percent, instead it grew by 10.3 percent!
While everyone else sees the IMF for what it is Trinidadians still foolishly accept its neo liberal propaganda and politically biased "technical" reports.
Can't Trinidadians see that the IMF's solutions will not bring any change to the illiteracy and poverty that this country drowns in?
RAPHAEL JOHN LALL
Erin
http://www.newsday.co.tt/letters/0,57337.html