By Raffique Shah
April 29, 2007
www.trinidadandtobagonews.com/blog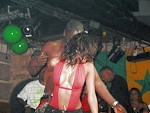 If the pastor's daughter plans a career as an exotic dancer or a "dutty winer", I applaud the 15 year-old. How many children at that age would make career decisions? Most are looking at their school curriculum, trying to determine what subjects suit them; what they would want to succeed in order to move on to A-Levels (now CAPE). They may even be thinking university education or skills training, but few would have carved career paths that would take them through life.

Indeed, some have not gone beyond tomorrow in mapping their lives. There are those who have grown up in gangland territories who would look on with awe at "community leaders" carrying firearms openly, daring the police, daring their rivals. They would know how many "notches" Mr. So-and-So has on his gun, meaning how many people he has "iced", in crime-speak. And many would have decided by the time they were ten what they wanted out of life. Lots of easy money, nice rides, the best "brands" in everything, and girls hanging onto their every body part, dying to share their goodies with the baddies.
Here's a girl who took the bull by the horns, in a manner of speaking, and here we are, hypocritical Trinis, condemning her for her God-given talent (praise the Lord, Pastor!). Not only that, but she's a damn nice-looking chick. If I were, say, 18, I would be impressed, to say the least. Maybe those who condemn her envy the girl's beauty. Maybe they wish they, too, had a neat torso like hers. Hell, many would be envious of that tauntingly-etched tattoo that seems to scream at you: want to see what's beyond that? And a pierced navel to top it off! What a dish.
Now, let's cut the BS and get real. The pastor dyed-jeri-curls-et-al, is crying foul now that the mess has hit the fan. While apologizing for his darling daughter's "mistake", he slams into Club Zen's owners for allowing an underage, innocent child onto the premises.
He berates artiste Akon for seducing the girl onto the stage, then exploiting her in a sexually explicit manner. I imagine, too, he's fulminating from the pulpit at "maccocious" Trinis who have nothing better to do than watch his daughter dance on videos posted on the internet. He and his crime-fighting son also slam the media for keeping the issue alive, begging us to lay off the "poor child".
Not to be outdone, Prime Minister Patrick Manning gets into the act. He, too, speaks of the "exploitation" of the "vulnerable child" by the club's owners. He vows to go after Club Zen. Within hours of the PM's statement the police raid Zen, and hours later the club is closed for not having a restaurant license. Quick action! I wonder what the pastor's son (I must show reverence…this is a very religious family!) would say about people who have been robbed, raped, mauled and worse, and who, months or years later get absolutely no attention from the police? What did the police or the PM or the pastor say or do when there was a nightclub in Cascade that boasted of "coconut oil" and "golliwog" nights? Were they stricken blind and deaf when a club in State-owned Chaguaramas treated Black people like dogs?
As for the girl's innocence, who permitted her to have her navel pierced? Or have tattoo etched centimeters above her bottom? If all parties who are responsible for the upbringing of this "innocent child" agreed to allow her these symbols of rebellious womanhood, then that tells us even more about the pastor. If they did not know about them, just as they thought she had gone to buy ice-cream on the night she ended up in Zen, then that, too, tells an even sadder story of a dysfunctional family. In fact, even as you read this, as the pastor might have done earlier today, he must be calling hell and damnation on Shah's "dutty mind"!
Those who know me understand that I make no pretences to morality-a-la-bible or any holy text. When I was the age of the pastor's daughter I was one b-a-a-d son-of-a…! Even so, I could not leave Haniff's house saying I was going to the palour and end up in a panyard or a club. Licks in my backside, big man though I thought I was. When my own children were growing up, even when they became adults, they still sought permission or informed their parents of any nighttime outings.
If, therefore, this reprobate had advice for the pastor, it's this. Examine, dear sir, the "beam-and-bricks in thine eyes before thou pointest" to the motes in Akon's eyes. It may take you years to clean up the family act, but accept it as penance. It's God's will that your innocent daughter's exposure had awakened you. Give praise, pastor. And I do pray your daughter matures into a woman of substance.
http://www.trinicenter.com/Raffique/2007/Apr/292007.htm
NEWS UPDATE: May 07, 2007
Tonight TV6 News reported that police investigators have closed the books on investigations into the Danah Alleyne/Akon raunchy dancing incident at Zen nightclub.
The TV6 News report said, "According to Deputy Commissioner of Police Winston Cooper, the investigations have reached a stalemate as witnesses aren't coming forward to support the police."
It's been three weeks since police officers launched an investigation into the lewd dancing incident involving the fifteen year old pastor's daughter, Danah Alleyne, and the hip-hop singer, Akon at Zen nightclub. A video clip of the act was posted on the internet and this sparked a national debate about such conduct and who is to blame.
Trinidad and Tobago News Blog's URL for this article:
www.trinidadandtobagonews.com/blog/?p=232