By Raffique Shah
August 29, 2019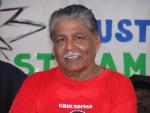 I had planned to write a column sometime before the 2019-2020 Budget presentation on the successor-companies to State-owned oil giant Petrotrin, seeking to have the Minister of Energy and/or Corporation Sole (the Minister of Finance) inform the public of their progress or regress or stagnation. I thought that in the spirit of transparency, especially after citizens were stunned when we were told in 2017 or thereabout that the one-time pillar of the national economy was teetering on the brink of bankruptcy and mired in multi-billion-dollar debts, we the public should know early o'clock if the new enterprises were faring any better.

Then last week, like a bolt from the blue, government's precipitate strikes against chairman Wilfred Espinet and chief executive officer Mike Wylie shocked me into reality: politicians of whatever hue, once they hold office and savour power, cannot resist interfering in enterprises they oversee on behalf of the owners, the people of Trinidad and Tobago. They take an almost perverse delight in lording it over men and women, many of whom are professionals or ordinary people who have built reputations in their respective fields that surpass those of their line ministers. Some ministers are downright disrespectful towards directors and senior managers of companies and agencies that fall under their purview.
It seems like only yesterday Prime Minister Dr Keith Rowley and his colleagues Colm Imbert and Franklyn Khan were praising Espinet as the Turn-around King, the man who could lead the faltering oil industry from decline into prosperity, and promoting Wylie as being worthy of every US dollar he was being paid. The politicians preened like peacocks when Heritage Petroleum, the exploration and production subsidiary, announced that it had made an after-tax profit of $565 million during its first four months of operations (unaudited, December 2018-March 2019).
They boasted, too, that for the first time in many years, that arm of the holding company was engaged in drilling new wells. According to the Ministry of Energy monthly bulletin, HPCL started drilling seven wells in 2019, all on land. The company's crude oil production, by far the leader in both land and marine wells, declined from an average of just over 40,000 bopd to approximately 37,000 last June.
A few months ago at a media briefing, Minister Imbert said that HPCL will soon make its first royalty payment to Government. And Wylie added that the E&P subsidiary was on course to contribute 8.7 percent of government revenue.
There were several factors that positively impacted its earnings and profits post-Petrotrin/Trinmar. The shortage of sour/heavy crude occasioned by disruption of Venezuela's precipitous drop in production, and the demand for such crude by refineries configured to process it, opened a window of opportunity for HPCL. That resulted in higher than normal prices. And with the termination of permanent employees when Petrotrin was shut down last November, and the pruning of management, costs have dropped dramatically. Hence the company could trumpet to potential investors that its after-tax profits for one month were expected to be $222 million.
Wyley spoke of estimates of reserves on land estimated at four billion barrels. With an existing recovery rate of 20 percent (way below the industry average of 40 to 60 percent), already HPCL has improved efficiencies by operating with 25 percent of staff that its predecessor employed. It was on track to introduce new technologies to boost production.
Then he was diagnosed with cancer and opted to seek treatment in the USA, where he is currently located. A proposal by the board to allow him to continue to lead the company through use of modern information and communications technologies was rejected by government. He was fired, and Espinet and a few other directors were removed in the process.
I understand government's rationale for rejecting the remote-control proposal. While Wiley comes across as a near-perfect fit for managing the turnaround of HPCL, surely there must be others, even locals, who are as qualified for the leadership role. What I am curious about is the decision to replace Espinet with Michael Quamina, who is described as being the PM's attorney and friend.
Such relationships may not matter in normal circumstances. But when important corporate appointments are clouded by "who you know" in a society such as ours where nepotism is rampant, it is difficult to escape suspicion. When reports noted that Quamina had no experience in the oil industry, he responded by pointing out that Espinet was similarly inexperienced. I ask, though: was he not among board members who approved the proposal to retain Wylie by "remote control"?
Then there is the Newman George appointment that is similarly clouded. Announcing the shake-up, Minister Imbert expressed Cabinet's consideration that both the holding company and HPCL were too critical to the country's international credit rating to be left to chance, to an unfortunately stricken CEO who has to focus on his own recovery.
Again, while I accept such concerns, George's appointment as chairman of two subsidiaries even as he holds vice-chairmanship of Caribbean Airlines, is suspect to say the least. My concern here, as I imagine it to be other citizens', is this: are we about to see political expediency trump corporate considerations in what seems set to be ahead of us—a year of intense political campaigning?
Those of us who risked being branded "sellouts" by workers and trade unionists when we supported the radical restructuring of the oil industry, did so on the understanding that political interference will end and good corporate governance would restore the companies, in their new incarnations, to their rightful places of pride, as well as profitability, in the best interests all citizens of this country.
There will be hell to pay if we were deceived.