By Stephen Kangal
January 30, 2019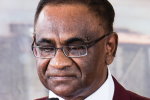 It appears to me that the latest statement issued by Minister Stuart Young deputizing for a missing -in-action Minister of Foreign Affairs on the situation in Venezuela stands on the following three planks:
The UN principle of the Sovereign Equality of States
Non- Interference by T&T in the internal affairs of sovereign state of Venezuela
Non-Intervention militarily but potential mediation in crisis Venezuela
The first thought that strikes me is that were the international community deterred by the first two above-mentioned pillars in South Africa, the despicable policy of apartheid in South Africa would have been still with us today. Infringements of human, civil and political rights concerns globalize the situation in Venezuela beyond its sovereign/territorial boundaries.

It is no longer considered an exclusive internal matter and T&T must take due note. It has evoked the outrage of the international community as a result of the humanitarian crisis that is plaguing Venezuela.
But the international community saw apartheid as a denial of fundamental human rights to blacks, a threat to the peace and order of the world and indeed to humanity and removed this nefarious system of discrimination.
The effects of the Venezuelan crisis unleashed by Maduro have exceeded the borders of Venezuela and are manifesting itself in T&T, Colombia and other countries with the influx of Venezuelan refugees numbering over three million. This can no longer be considered exclusively a Venezuelan problem confined to its borders.
T&T has had to accelerate a bill to deal with refugees. It seeks to assist Venezuelan nationals in need of food, shelter, clothing, employment and beefing up of its border security apparatus. Trade in Venezuelan- sourced guns brought by the refugess is increasing the crime pandemic here and we had to export emergency supplies of food etc. to Venezuela responding to the internal food shortage situation.
Accordingly for T&T to base its current policy position on the irrelevance of sovereignty, non-interference and a do-nothing scenario is to misunderstand how the Venezuelan crisis situation has mushroomed incrementally and gained attention demanding international settlement of the bifurcated political situation there.
This escalation has provided the OAS with a window to condemn the illegitimacy of the Presidency of Maduro and for states to recognize the acting Presidency of Juan Guaido. That is designed ostensibly to restore human, civil and political rights, reduce suffering of the people and to salvage the tottering- on- the- brink Venezuelan economy to benefit the people.
T&T, although a small state located next to Venezuela must demonstrate strong statesmanship and navigate the crisis sensibly and with much needed diplomacy. Galvanising Caricom is a fruitless initiative without any clout. They themselves are divided into three camps with Jamaica and Guyana opposing Maduro's regime.