Dear Sir
It is important to establish what maritime territory was lost or gained by either party in the recent arbitration ruling by the Permanent Court of Arbitration in The Hague on the Barbados/Trinidad maritime border dispute. To do this we need to contrast the positions of the parties in the negotiations just prior to the decision by Barbados to go to arbitration against the eventual ruling of the Court. The attached map attempts to show this more clearly than I have seen it on other maps that do not highlight the disputed area.
You will recall that Patrick Manning had said at the meeting at Villa Nova in 2004 that the border dispute was intractable because Trinidad's claim line was written into the laws of that country as a result of the 1990 Trinidad/Venezuela Treaty. Barbados's position was that the border should be the median line.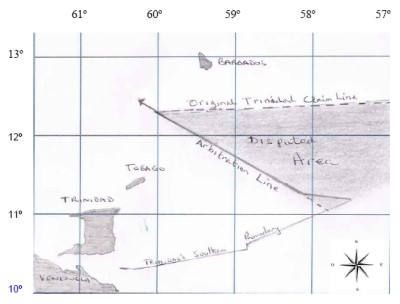 The map shows the position of the parties at that stage, as well as the decision of the tribunal. As can be clearly seen, Trinidad's original claim line diverted significantly from the median line and traveled in an East-North-Easterly direction, passing just 40 nautical miles off the south of Barbados That's what was "intractable", according Mr. Manning.
The disputed area is shown as the shaded area on the map; it extends off the map for some distance to the east, and in total represented nearly 30,000 square nautical miles of marine space. This is the marine space Trinidad had claimed all along until the arbitration started; the same area they were secretly working with Venezuela to establish a commercial presence in, until Barbados found out about it and blew the whistle.
Both parties changed their positions in the arbitration, but these should be viewed as tactical ploys. Trinidad moved its claim line southward, reducing its claim by about half while Barbados made a claim for an area around Tobago, based on historical fishing routes.
What the arbitration tribunal did was accept the median line that Barbados had proposed all along in the negotiation phase, with the minor adjustment at the bottom of the shaded area where the arbitration line changes direction. The result was that Trinidad was awarded about 300 square nautical miles (the little triangle) instead of the 30,000 square nautical miles it had claimed by virtue of the 1990 Treaty with Venezuela.
In addition, Barbados was able to extract from Trinidad a legally binding commitment to conclude an agreement to allow Bajan fishermen to fish in Trinidad & Tobago's Exclusive Economic Zone (EEZ), something they (Trinidad) were previously unwilling to do.
It is clear therefore from the foregoing that the claim of a victory by T&T's Attorney General, when they have lost virtually all of what they had claimed under the 1990 Treaty, is anything but credible.
David Brathwaite
Christ Church, Barbados