Cannonball Project: Trinidad Raises First Offshore Gas Rig
Updated: November 22, 2004
By Tyehimba
Trinicenter Staff
Photos: Christine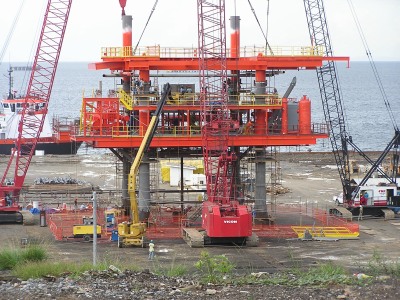 Click here for photos of the Gas Rig in construction
Those in the oil and gas industry globally are keeping a close watch on the building of the Cannonball platform undertaken by BPTT in the LABIDCO Estate, in south Trinidad. A short distance away from the site is the La Brea Pitch Lake, the only one of its kind, where more than 400 years ago British pirate/explorer Sir Walter Raleigh used tar from the lake to fix the leaks in his ship. While there is a tendency amongst foreigners to view Trinidad and other Caribbean countries as little backward "banana islands", the almost completed construction of the Cannonball drilling platform is challenging skeptics in the oil industry who said that it could not be built in T&T.
The Cannonball platform, named after a local tree that bears balls of multicolored flowers, is only the second drilling platform built in Trinidad and Tobago, and is the first one ever that is being built from scratch. Weighing over 950 tons, the drilling platform is being constructed for BPTT by Trinidad Offshore Fabricators Ltd (TOFCO), a joint venture between local company Weldfab Ltd. and Chet Morrison ltd. With this project, Trinidad and Tobago now has the capacity to construct offshore oil and gas drilling rigs, whereas previously they were imported from the US Gulf Coast.
Despite its late start, the drilling platform is set to be finished at the scheduled date (February 2005), after which it will be lifted by cranes and pulled 30 miles southeast of Trinidad to be installed. When fully operational in January 2006, the Cannonball rig will be fully automated with cutting edge technology providing BPTT with increased safety, remote access to its platform and a reduction in operational costs. Work is being done on the project seven days a week, with both a day and a night shift working on the site to meet the scheduled completion date.
The primary purpose of the Cannonball rig is to extract natural gas and pipe it to Atlantic LNG trains (processing units) in Point Lisas, however, it will also extract some crude oil. It will have the capacity to hold 1 BFCD of gas, which boosts the ALNG Train 4 capacity to an estimated 2.9 BCFD.
Trinidad and Tobago has become the leading supplier of LNG to the US, and is heavily dependent on oil and gas revenues which constitute one quarter of its Gross Domestic Product (GDP).
While construction of the Cannonball platform cost 10 million US dollars(60 million TT) more to build in Trinidad, the total construction of the drilling rig in T & T is an important development. It will provide an estimated 1.5 billion US dollars a year in revenue, as well as give local people a chance to develop knowledge and expertise within the energy industry. It was designed by local engineers and its construction employs 45% of its labourers from the area. The 31-member project management team includes 21 T & T nationals (68%) while previous BPTT projects have had only 9% local management participation. Overall, the fabrication, engineering and assembly of this platform uses 65% of local man-hours, while previous BPTT projects of this type were fabricated, engineered and assembled in the U.S.A and Mexico and used only 9% of local input.
In addition to the employment generated directly from the actual platform construction, there are opportunities for downstream industries to be developed.
Officials further commented on the present lack of such support for the groundbreaking project, explaining that a lot of materials and equipment including the massive cranes and high strength steel were shipped in from the US, as they could not be sourced in T & T. With the growth of Trinidad as a platform building destination, there will be opportunities for companies to provide support products and services.
Site officials attributed the higher cost of building the platform locally to shipping costs, labour/training costs, safety programs and community programs. Managing the project outside of the US increased the cost of this initial project. One official noted the high quality of work done so far by Trinidad and Tobago nationals, although mentioning that in the US, worker productivity is higher as a result of already trained personnel.
The investors are poised to get huge returns on their capital investment. Production costs will decrease over time as efficiency increases and support industries mushroom. The strategic geographical location of Trinidad also makes it an ideal location for the building of drilling platforms for Venezuela as well as West Africa.
Check out Triniview.com Album for more photos:
http://triniview.com/album/tofco