Tropical Storm Jeanne Advisory
National Hurricane Center Miami Fl
5 PM AST TUE SEP 14 2004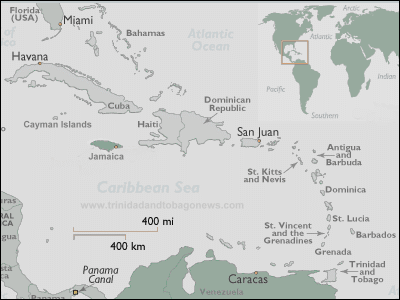 ...Jeanne continues to strengthen over the northeastern Caribbean Sea as it heads toward the U.S. Virgin islands...Hurricane watches and warnings issued...
At 5 pm AST...2100z...A hurricane warning has been issued for Puerto Rico and the U.S. Virgin islands.
At 5 pm AST...The government of the Dominican republic has issued a hurricane watch and a tropical storm warning for portions of the northern and southern coasts of the Dominican republic from Cabrera southward to Santo Domingo.
A tropical storm warning remains in effect for the British Virgin Islands...St. Kitts...And Nevis.
At 5 pm AST...The government of the Netherlands Antilles has discontinued the tropical storm warning for Saba...St. Eustatius...and St. Marteen.
Tropical storm conditions could also affect the remainder of the northern Leeward Islands.
At 5 pm AST...2100z...Reconnaissance aircraft and Doppler radar indicate the center of tropical storm Jeanne was located near latitude 16.8 north...Longitude 63.9 west or about 85 miles...140 km...Southeast of St. Croix.
Jeanne is moving toward the west-northwest near 10 mph...17 km/hr...And this general motion is expected to continue for the next 24 hours. This motion could bring the center near St. Croix late tonight or early Wednesday...And near Puerto Rico Wednesday afternoon.
Maximum sustained winds indicated by an air force reserve reconnaissance aircraft are near 60 mph... 95 km/hr...With higher gusts. Some strengthening is forecast during the next 24 hours...And Jeanne could become a hurricane on Wednesday.
Tropical storm force winds extend outward up to 40 miles... 65 km from the center.
The minimum central pressure recently reported by reconnaissance aircraft was 998 mb...29.47 inches.
Storm surge flooding of 2 to 4 feet above normal tide levels...Along with large and dangerous battering waves...Can be expected near and to the right of where the center makes landfall.
Rainfall accumulations of 8 to 10 inches...With isolated higher amounts...Can be expected near the path of Jeanne.
Repeating the 5 pm AST position...16.8 n... 63.9 w. Movement toward...West-northwest near 10 mph. Maximum sustained winds... 60 mph. Minimum central pressure... 998 mb.
For storm information specific to your area...Please monitor products issued by your local weather office.
An intermediate advisory will be issued by the national hurricane center at 8 pm AST followed by the next complete advisory at 11 pm AST.